Hawaii is a destination that is renowned for its popular resorts, welcoming inhabitants, and its efforts to preserve its culture and be fairly represented at all levels. Hawaiian colleges are also of great interest as Hawaii is home to one of the best universities in research and innovation in the US. If you are considering schooling in Hawaii and need to look for the best colleges, look no further.
We have done all the research to find the 5 best colleges in the state.
2023's Best Colleges in Hawaii
Brigham Young University – Hawaii
University of Hawaii – West Oahu
University of Hawaii at Manoa
Chaminade University of Honolulu
University of Hawaii at Hilo
Brigham Young University – Hawaii
BYU-Hawaii is a private undergraduate university that is owned by the Church of Jesus Christ of the Latter-Day Saints. It was founded in 1955. And currently has 3,176 students. It is renowned for its profound commitment to the Hawaiin culture and academic excellence. It is also known for how affordable it is compared to the high standard of education it offers. Professional lecturers and members of faculty teach students using a curriculum that has been tried and tested for excellence. Students live and learn in the beautiful Hawaiin environment on the small campus. Students are constantly challenged to do better, be morally, spiritually, and professionally upright even after graduating. BHU-Hawaii has a diverse community of students and staff from over 70 countries of the world. Who work in unity to produce outstanding results. Students learn by faith and study to become outstanding leaders in their generation.
BYU-Hawaii ranks among the best colleges in Hawaii and 10th in best regional colleges west. It also ranks 29th in top performers on social mobility.
BYU-Hawaii has a 42% acceptance rate and a 55% graduation rate. Incoming students had an average GPA of 3.5. Most applicants to one of the best colleges in Hawaii don't have to submit their test scores from Spring 2021 to Winter 2024.
Members of the Church of Jesus Christ of the Latter Day Saints pay $8,091 for tuition annually while non-members pay $16,181 for tuition every year. Part-time students who are members of the church pay $253 per credit while on-members pay $506 per credit. Over 70% of BHU-Hawaii students receive financial aid to help them with costs.
BYU-Hawaii has a close working relationship with the Polynesian Cultural Center and many of its students work there in different departments to raise their finances. About 90% of all the current students at BHU-Hawaii either have jobs on campus or at the Polynesian Cultural Center. This makes it possible for students who would normally be unable to pay for college to afford the fees.
Here are some academic programs:
Accounting
Biology
Computer Science
Entrepreneurship
Film
Hospitality and Tourism Management
Information Technology
Mathematics
Pacific Island Studies
Social Work
Theatre
Visual Arts
University of Hawaii – West Oahu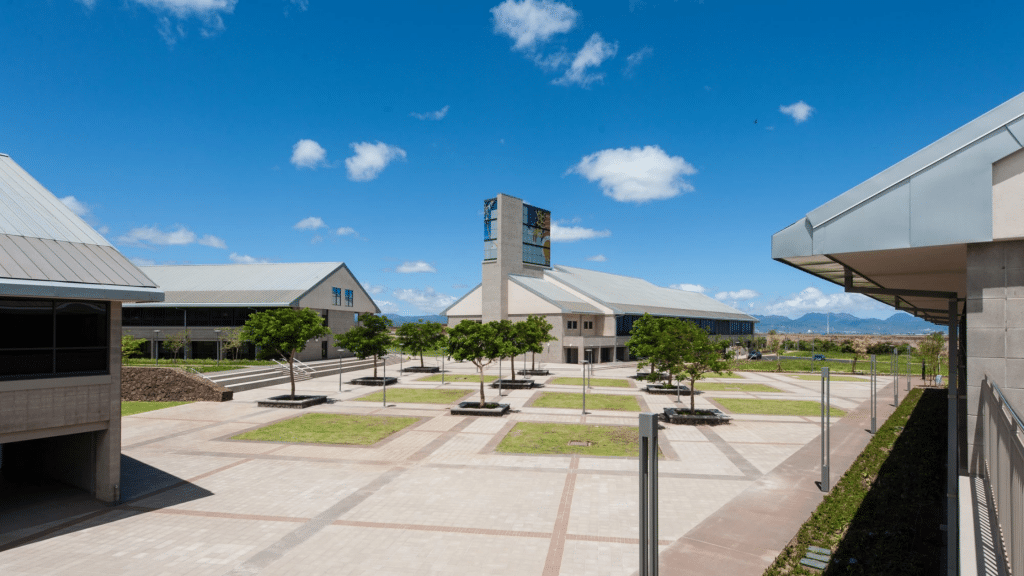 The University of Hawaii-West Oahu is a public university that offers liberal arts studies and professional studies and was founded in 1976. UWHO offers hybrid and online learning to improve the quality of learning and increase safety. The university's curriculum focuses on some social sciences, humanities, and some professional programs. Faculty members are well-trained in their fields of study and work with students through teaching, service, and research to help them achieve their educational goals alongside professional goals. UWHO has a multipurpose library that has travel exhibits, books, and is used to host events such as research workshops and musical performances. It has a tutoring enter to improve students' study through workshops, peer-to-peer tutoring, etc. UWHO also has a bookstore with a variety of books for sale and rent. Additionally, students have an organic garden, a fitness center, and a cultural center.
The University of Hawaii-West Oahu ranks 16th in regional colleges West which puts it in the list of top schools in Hawaii. It ranks 1375 in the US and 4190 among colleges in the world.
UHWO has an 84% acceptance rate and a 50% graduation rate. Students are not required to submit standardized test scores but can do so to increase their chances of getting admission.
Hawaii residents pay $306 per credit while non-Hawaiin residents and Pacific Island Jurisdiction & WUE pay $441 and $373.50 respectively per credit in Summer 2021. Hawaii residents pay $306 per credit while non-Hawaiin residents and Pacific Island Jurisdiction & WUE pay $846 and $459 respectively per credit from Fall 2021 to Spring 2022. Students can apply for financial aid in the form of grants, loans, scholarships, and federal work-study loans. Merit-based scholarships are available to eligible students.
Graduates have an average salary of $38,600 annually.
Here are available degree programs:
Applied Science
Business Administration
Creative Media
Cybersecurity
Education
Humanities
Natural Science
Public Administration
Social Sciences
The University of Hawaii at Manoa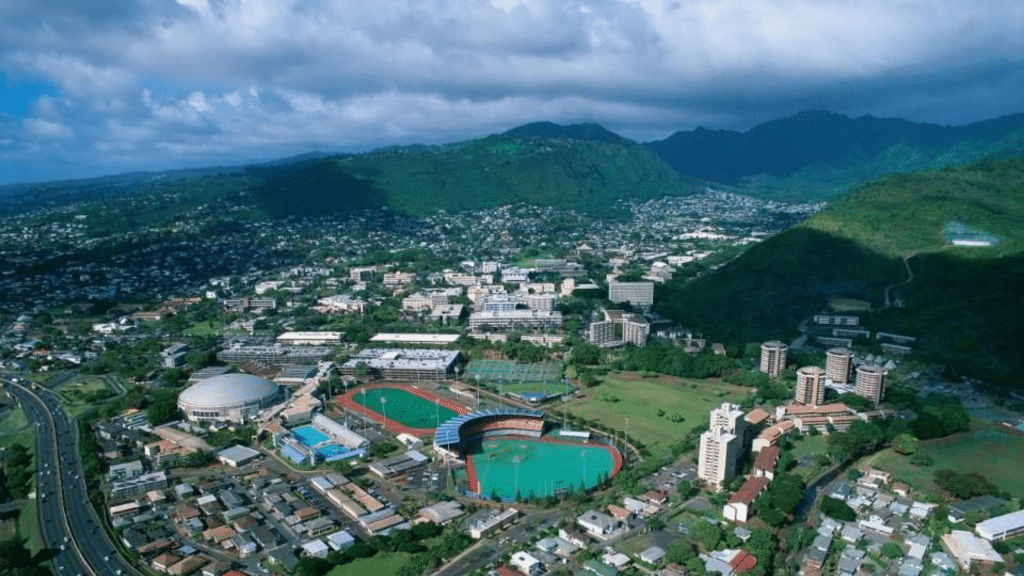 The University of Manoa is a public university that was established in 1907. It is a research university that has a student population of 12,631 undergraduates. It is known for outstanding research and is the top college in Hawaii in research rankings. It offers access to quality education at almost $4,000 less than the national average. It is an R1: Research university and also a land grant, space grant, sea grant, and sun grant institution. Its nationally and internationally acclaimed research is in areas such as food systems, climate, and sustainability. It has more than 20 student organizations and NCAA Division l.
The University of Hawaii at Manoa gives students a multicultural experience and helps them learn other exciting traditions. It has international and exchange programs to bring in the best students from leading universities in the world. Students have numerous opportunities to practice what they learned in the classroom and improve their skills. They have access to well-equipped laboratories, internship opportunities, and can form peer-to-peer groups to improve learning. The university also has 4 libraries, a bookstore, and multiple research centers.
It is among the top if not the top university in Hawaii and ranks 170th in national universities. It ranks 83rd in top public schools and 159th in best value schools. It is 145th in the best undergraduate engineering programs.
The University of Hawaii at Manoa has a 58% acceptance rate and a 58% graduation rate. It is test-optional for the 2021/2022 academic year.
Undergraduate Hawaii residents pay an average of $11,304 while undergraduate non-Hawaii residents pay an average of $33,336 for tuition. Western Undergraduate Exchange students pay $16,956 while Pacific Island Exemption students pay $16,632 for tuition. Graduate Hawaii residents pay $10,400 while non-residents pay $22,433 for tuition. Students can apply for financial aid to fund their studies.
Graduates have an average annual salary of $45,800 annually.
These are some majors:
Accounting
Botany
Classics
Dental Hygiene
Electrical Engineering
Food Science and Human Nutrition
Global Environmental Science
Hawaiian Studies
International Business
Medical Technology
Nursing Practice
Psychology
Religion
Second Language Studies
Travel Industry Management
Women's Gender and Sexuality Studies
Chaminade University of Honolulu
Chaminade University is a private Catholic institution that was founded in 1955. It has the most diverse student body when compared to other universities and it has stringent rules to combat discrimination of any form. It is a small university with small class sizes that make it easy for lecturers to know students by name. This is highly profitable for students because it improves their academics and makes them better grounded. Chaminade University encourages team spirit and hard work to attain educational and professional excellence. It offers career advice to help students make the right decisions in what they want to become.
It is top in the list of the best Hawaiin colleges in student life. Chaminade University ranks 29th in regional universities West and 28th in best value schools. It is 22nd in best undergraduate teaching and 36th in top performers on social mobility.
It has a 95% acceptance rate and a 59% graduation rate. Chaminade University does not compel first-year students to submit their results from standardized tests.
Standard tuition and fees cost $27,454 annually. Students in the school of nursing pay $33,944 for fees and tuition annually. 43% of students have received the Pell grant. Undergraduates received more than $15.8 million in financial aid. Each undergraduate student received an average amount of $15,340 in grants/scholarships. Students who are eligible for merit aid do not need to apply for it. Students have to complete FAFSA to apply for financial aid.
97% of undergraduates received financial aid in the 2020/2021 academic year.
These are some of the most popular majors at Chaminade University:
Accounting/business management
Biology/biological sciences
Criminal justice/safety studies
International relations and affairs
Humanities
Early childhood education and teaching
Speech communication and rhetoric
Forensic science and technology
History
Registered nursing
Psychology
Interior design
The University of Hawaii at Hilo
It is a public university that was founded in 1945. It focuses on providing students with a high-quality education that will be useful even when they graduate. It provides limited postgraduate education and offers high standard bachelor's degrees. Students spend a lot of time carrying out research individually, in groups, or supervised by a faculty member.
The University at Hawaii takes scholarships seriously and uses them as an opportunity to increase student engagement and increase the number of highly educated and qualified professionals in each field.
It is a comprehensive regional university that has a smaller student population compared to other public universities in the state. However, what it lacks in population and resources, it makes up for in a close-knit community where faculty members know students and are experienced to help them out of any difficulty. Being a culturally diverse university, it is 1st in the most diverse national university ranking by U.S. News & World Report. Students are encouraged to go on internships create a profitable network and establish references and contacts. They can practice behaviors and skills that are required in the work setting. Additionally, students will build their self-confidence and contribute to a service organization or business within their locality.
It ranks 80th in top performers on social mobility and ranks between 154th to 209th in top public schools. It is in the list of best universities in Hawaii and ranks between 298th to 389th in national universities.
It has a 52% acceptance rate and a 32% graduation rate. UH at Hilo is test-optional for Fall 2022 and Spring 2023 because of the limitations the coronavirus has caused. Students will be admitted if based on the other requirements for admission.
Full-time undergraduate students that are Hawaii residents pay $3672 while full-time undergraduate students that are non-Hawaii residents pay $10,152 for tuition in a regular semester. Full-time graduate students who are Hawaii residents pay $5,868 while full-time graduate students who are non-Hawaii residents pay $13,284 for tuition in a regular semester. Hawaii residents studying pharmacy pay $12,048 while non-Hawaii residents studying pharmacy pay $20,520 for tuition in a regular semester.
Students can apply for financial assistance through federal programs, institutional programs, and state programs. They can also apply for scholarship opportunities and other forms of financial aid.
The average graduate from UH at Hilo earns $37,900 annually. Students can get 6 hours of upper credit that is a business elective credit.
Here are the majors:
Administration of Justice
Astronomy
Biology
Communication
English
Geography
History
Kinesiology and Exercise science
Liberal Studies
Marine Science
Nursing
Performing arts
Pharmacy studies
Why Study in Hawaii?
Hawaii is one of the most beautiful places to visit in the US. Thousands of tourists from other states & territories in the US alongside other countries troop in annually. Hawaii has breathtaking beaches, ethereal sunsets, and vegetation in its purest form. It has volcanic mountains and is home to rich marine life. Hawaii also has the Polynesian Cultural Center which provides jobs for students to help them with the cost of tuition. The top schools in Hawaii have low tuition rates, access to great faculty and staff, and offer quality education. They have a diverse cultural community and are focused on keeping their traditions and representing the underrepresented. Hawaii is the perfect state for you.
Conclusion
Getting a college education in Hawaii is a profitable investment. Students have time to study their books and explore the outdoors. The top colleges in Hawaii offer financial aid in various forms to assist students based on merit or their needs. These colleges are deeply rooted in the Hawaiin culture and are keeping alive through education enlightening programs and exciting cultural events that keep students engaged. Apply to these colleges today to stand a chance to get admission.
References