One cannot overemphasize the importance of a college degree. No matter how young or old you may be, a college degree may just be what you need to get your foot in the door in the job of your dreams. With so many great schools in existence, the problem often lies in making the right choice regarding the college you choose to call home for the next couple of years of your life. To make the decision-making process easier for you, we have done all the necessary research and can provide you with a list of the top colleges in Arizona.
2023's Best Colleges in Arizona  
Arizona State University-Downtown Phoenix
Arizona State University-Polytechnic
Arizona State University-Tempe
Arizona State University-West
Embry-Riddle Aeronautical University-Prescott
University of Arizona
Arizona State University-Skysong
Dine College
Arizona Christian University
Northern Arizona University
Arizona State University – Downtown Phoenix
Arizona State University is one of the best colleges in Arizona State. It was created in 1886 before Arizona gained the status of statehood. It is a public research university that is one of the four campuses under the University of Arizona system. As part of the larger university of Arizona, the Downtown Phoenix campus offers its students' majors both on-campus and online.
As of 2006, the Downtown Campus became operational with students of the college of nursing and the college of public programs holding their classes there and now serves over 11,465 students. Located on the north side of Downtown Phoenix, the campus has an urban design with large academic buildings as well as commercial and retail office buildings on the premises. It is the home of the Walter Cronkite School of journalism and mass communication, the Thunderbird School of Global Management, and the Sandra Day O'Connor College of Law.
Students considering enrolling in this university are expected to have at least a 3.0-grade point average and an ACT score of at least 22. That notwithstanding, the school's acceptance rate is quite high at 82% with a graduation rate of 76%. The average tuition per annum after aid is $12,000.
Students in Arizona States University Downtown Phoenix have the option of choosing from over 300 majors online. It is also the only campus where students can pursue degrees in the science of healthcare delivery, community sports management, and foodservice management. Other majors include:
Biomedical sciences
Psychology
Communication
Journalism
Business management
Marketing
Law
Arizona State University – Polytechnic
Of all colleges in Arizona, the ASU polytechnic stands out for its focus on the technical and interdisciplinary sciences. The Arizona state university polytechnic campus offers students a variety of courses in engineering, technology, and management fields of study. The ASU Polytechnic campus offers about 130 graduate and undergraduate programs to its students as well as remote studies on the ASU online platform.
The polytechnic university was established in 1996 and serves an average of 4,800 students each year. The 600-acre campus located in Mesa, Arizona is home to the College of Integrative Sciences and Arts, Ira A Fulton School of Engineering as well as other academic and recreational facilities. It also provides students looking for a self-contained educational experience with the availability of residence halls, dining facilities, and other recreational infrastructure.
The polytechnic campus accepts an average of 84% of all the students that apply to the institution each year. The institution also graduates an average of 72% of its students each year. Their career guidance service also provides students with professional internship placement as well as career orientation and development.
At the Polytechnic school, ASU, students can choose one of many majors to specialize in. Majors they can choose include:
Aviation
Engineering
The engineering education system and design
Environmental and resource management
Graphic information technology
Human systems engineering
Information technology
Manufacturing engineering
Arizona State University – Tempe
Third, on our school rankings in AZ, is the Arizona State University Tempe campus. It is a public research university that was established in 1885. The school ranks as one of the biggest schools in the country by enrollment, opening its doors to over 70,000 students each year. It offers several graduate and undergraduate degree programs to choose from as well as a wider variety of study fields on the ASU online system.
The 660 acres urban-style campus, being the first and original campus of ASU, is home to very reputable infrastructure and beautiful landmarks like the palm walk. It also accommodates the college of liberal arts and sciences, the school of sustainability, the school of future innovations, and many others. The institution also has several athletic facilities like the Sun Devil Stadium which serve its student population.
The school has an acceptance rate of 86% and an average of 67% of its students graduate every year. The school also offers financial aid such as discounts to in-state students as well as scholarships and grants to international students and students coming from out of state.
Students can choose a major from a variety of study areas. Some of the majors available to students include:
History
Geological sciences
German
Museum studies
Nanoscience
Mathematics
Marriage and family therapy
Molecular and cellular biology
Arizona State University – West
The ASU West campus is the 5th campus that is a part of the Arizona state university. The campus was established in 1984 and now offers students over 100-degree programs and over 27 graduate, postgraduate, and certificate programs to choose from. As part of ASU, the students in the west campus can also study remotely through the ASU online study platform.
The 277.92 acres campus is located northwest of Phoenix, close to the Glendale border. The campus serves approximately 4.000 students enrolled for at least 1 course each year. Mostly powered by solar energy, the campus has become a point of pride for the city of phoenix. The west campus provides several amenities to its students such as a swimming pool, the sun devil fitness complex, and a well-equipped library.
The school's acceptance rate is quite high at 82% and has a graduation rate of 78%. Students seeking enrollment in this institution would have to pay an average of $8.840 after aid. Students enrolled here are sure to have a smooth ride with a variety of support services that available at the university. The support services are designed to help students succeed personally, academically, and professionally. It does so by hosting career counseling which gives students the opportunity to snag internship and job opportunities.
At ASU west, students can choose a major from a variety of fields. Some of them include:
Applied quantitative science
Healthcare compliance and regulation
Forensic psychology
Elementary education
Psychology
Embry-Riddle Aeronautical University – Prescott
Embry-riddle aeronautical university Prescott Arizona is an arm extension of the institution's main campus which is in the state of Florida. That notwithstanding, the institution provides its Arizona residents with the same top-quality educational opportunities and facilities. It provides a variety of both undergraduate and graduate programs from different fields of study.
The ERAU Prescott campus covers approximately 539 acres only about 3 miles from the Prescott airport. There are several academic buildings as well as residence halls to serve its 2600 average annual enrollment. ERAU encourages on-campus studies due to the nature of their courses. For example, aviation students are required to undergo supervised training in over 30 planes and 10 helicopters as well as advanced simulations.
The average acceptance rate is 66%. Students are required to have a high school diploma to be eligible for consideration. Standardized test scores, letters of recommendation, and personal essays may improve your chances of getting accepted as well as make you eligible for financial aid which may come in handy with the institution's high average tuition cost at $32.000 after aid.
The institution also provides career orientation and development services as well as professional internship assistance for its students and opens them up to possible opportunities in the job market. Students in Embry-Riddle Aeronautical University can pursue a bachelor's degree in any of the following fields:
Arts
Science
Aviation
Business
Engineering
Security and intelligence
Master degree programs also exist in:
Safety science
Cyber intelligence and security
Security and intelligence
University Of Arizona
One of the best universities in Arizona is the University of Arizona. It was established in 1885 and now serves over 45,000 students every year, offering its students over 150 graduate programs and many undergraduates through 19 schools and colleges. The institution also provides remote education to students around the world through its Arizona online platform.
The university's main campus is located in central Tuscan, Arizona. It sits on about 380 acres which are divided into four quadrants. This campus houses several academic and administrative buildings of which were designed by Tuscan architect Roy Place, including the Library and Centennial Hall. The south and east side of the campus has lush greenery and is often called the Mall. The campus also accommodates several athletic and recreational facilities for students to enjoy.
Students applying for undergraduate programs in this university are required to have at least a high school diploma while graduate programs have several other requirements per program. The average acceptance rate in the university is 85% with a 60% graduation rate. The school also provides its students with career guidance and development services for both undergraduates and graduates.
With over 150 graduate programs and many more undergraduate degree programs for students to choose from one can safely say that there is something for everybody here. Students can choose to do either of the following:
Agricultural systems management
Government and public service
Religious studies
Accounting
Nursing
Philosophy
Education
Arizona State University – SkySong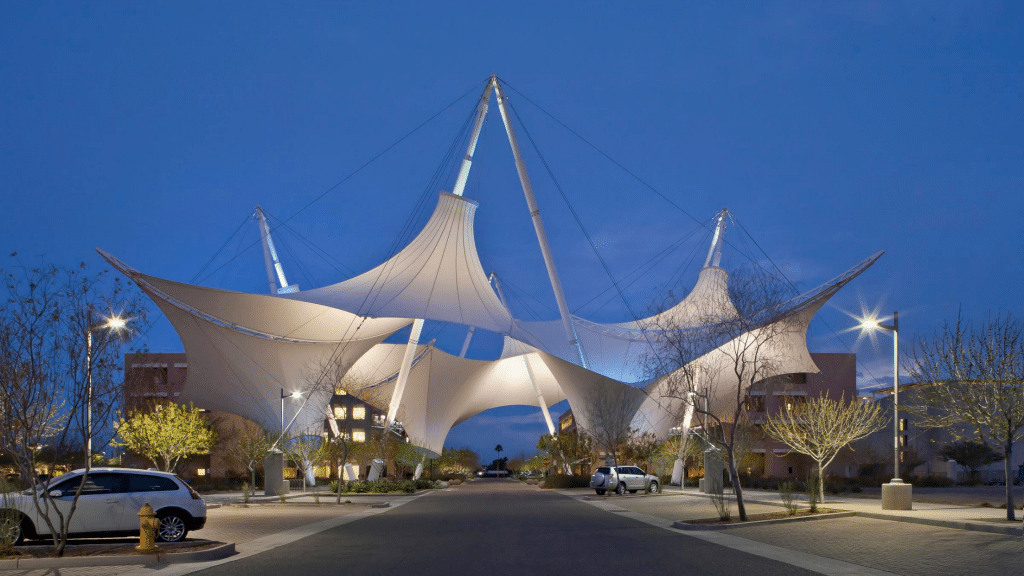 Next on our list of the best colleges in Arizona, is the Arizona State University Skysong campus. It is a public university which is located in Scottsdale, Arizona. It serves over 13,369 students each year offering a host of majors for both undergraduate and graduate programs. The university is also known as ASU Scottsdale innovation center which is a house business community that links research to practical work. It is a meeting ground for technology, research, education, and entrepreneurship.
Located only 3 miles from the research-intensive Tempe campus. SkySong is a 42 acre campus in Scottsdale Arizona. It is a joint venture between several other colleges in Phoenix AZ including ASU, the Plaza Company and other partnering companies.
The university is somewhat competitive with an average acceptance rate of 64% but only graduates 4% of its students which is significantly lower than the other universities we have seen so far.
Students can choose one of the many majors that are at their disposal. Some of the popular majors include:
Liberal arts and humanities
Psychology
Communication
Business management
Accounting
Political science
Dine College
Dine college standout for being the first tribally owned college in the country. The college is located in Tsaile, Arizona and serves the Navajo nation as well as other students from diverse origins who wish to partake in the school's rich curriculum. The university does not offer graduate programs; rather they offer several associate and bachelor degree programs as well as certificate courses.
The college's main campus is located in Tsaile Arizona which serves a small population of 2000 students. The college also has five other branches. There are two branches in Apache County: one in Chinle and the other in window rock. There are other branches in Coconino county (tuba city), Mckinley county, and San Juan county. The main campus has dormitories that have been designed mimicking the traditional Navajo Hogan architecture.
In order to apply to the Dine College, students are required to have at least a high school diploma or the GED. The school is very small with only about 800 undergraduate students enrolled each year. No doubt the school has an exceptionally high acceptance rate at 100%. That notwithstanding, students are required to take placement tests that evaluate their reading, writing and mathematics levels.
Some of the college's majors include:
Childhood education
Environmental science
Business administration
Computer information system
Law
Arizona Christian University
The Arizona Christian University is a private university located in Glendale Arizona whose core values are built on the Christian faith. Although it is a non-denominational institution, they, however, require that their students have a personal relationship with Jesus Christ and consent to actively participate in the institution's spiritual formation activities. Students are also required to agree to the institution's declaration of faith once they are admitted.
The university's main campus is in Glendale, Phoenix where it offers both regular day programs as well as night classes in order to assist students who are striving to achieve a study/work balance. The institution also provides remote learning services through its online services. On the campus are several academic and recreational buildings as well as residence halls.
Applicants must have a high school diploma or the GED before they can be considered for admission. Of all applications received, the school only accepts an average of 68%. Upon admission, students must sign an affirmation of faith, declaring publicly that they are followers of Christ and his teachings. After that, no placement test is conducted by the school.
Students enrolled here can choose from subjects linked to theology and ministry as well as other professional programs. Some of the areas of study include:
Biblical studies
Christian ministries
Christian family
Business administration
Elementary and secondary education
Sports management
Northern Arizona University
Last on our Arizona College list is Northern Arizona University, founded in 1899. It is a public research university located in Flagstaff Arizona. The institution provides world-class education as well as an impressive focus on the personal development of its students. The university offers both undergraduate and graduate programs. It is one of the few institutions that offer its students competence-based online programs.
The main Flagstaff campus sits on approximately 829 acres and serves over 12,000 students each year. This campus also houses several administrative, academic, and residential buildings. In addition to the Flagstaff campus, students can also benefit from the NAU statewide and online campuses, which serve over 8000 additional students.
Admission requirements are dependent on the program you are applying for and the method of its admission. However, applicants must have at least a high school diploma. The acceptance rate at NAU is 85% while their graduation rate is barely above average at 53%. The school assigns first-year students a career and academic advisor who not only guide their professional lives but also ensures that students are well grounded in terms of their personal lives.
Some popular major to choose from include:
Business administration
Education
Nursing
Journalism
Criminal justice
Social work
Why Study in Arizona?
With all the amazing schools in Arizona, you probably do not need much convincing to make Arizona your study location. But if you do, here are other reasons you should choose Arizona.
Arizona is the home of the famous Grand Canyon as well as other beautiful desert landscapes that are a source of attraction from tourists and locals alike. The incredible sunsets, and amazing lakes provide the right environment to connect with Mother Nature on a deeper level.
Arizona also has the best topography for outdoor sports activities such as bike riding and hiking. With long miles of biking trails and hiking trails for all levels. This allows you to study and explore your adventurous side at the same time.
Lastly, Arizona isn't a great study location only because of the schools and institutions that call this desert state home but also because of its connection to the outside world. Phoenix, the states' capital is often referred to as an international airport hub as many travelers make it their first stop. The state also hosts several conferences and conventions which are a great opportunity for students to learn and interact with different people.
In summary, making the right choice of university or college is the first step to building the career you hope to have one day. All of the information in this article has been provided so that you can make informed decisions regarding which college you choose to participate in your academic and professional journey.
References: