New Jersey provides great opportunities for students to study in some of the best colleges and universities in the country. These universities do not only serve the student population in New Jersey, students from New York and Philadelphia also take advantage of the academic prowess of the state. With so much to choose from, we have painstakingly carried out the due research to present with the best colleges in New Jersey.
2022's Best Colleges in New Jersey
Princeton University
Rutgers University-New Brunswick
Stevens Institute of Technology
The College of New Jersey
Ramapo College of New Jersey
New Jersey Institute of Technology
Rutgers University-Newark
Montclair State University
Stockton University
Rowan University
Princeton University
The prized jewel of the state of New Jersey, Princeton University is the state's only Ivy League university. It was founded in 1746 making it one of the oldest higher education institutions in the country. Princeton offers its students several degree programs in different fields of study at all levels through its 36 academic departments.
The university's main campus is located in Princeton, New Jersey. It spans about 600 acres accommodating over 200 buildings. The institution also has an additional campus known as the James Forrestal Campus which is used mainly as a research complex. The main campus still has some of the original structures that were constructed in 1756 such as the Nassau hall.
Admission into this institution is highly competitive, like most Ivy League institutions, Princeton only admits 6% of the students that apply there every year. It has a remarkably high graduation rate at 98%. Students who enroll at Princeton benefit from internship placement at some of the best companies in the state.
There are a variety of majors to choose from as well several pre-professional programs such as pre-law and pre-medicine. Some of the degrees students can pursue include:
Material science and engineering
Science, technology and environmental policy
Media and modernity
Business management and administration
Child psychology
Rutgers University – New Brunswick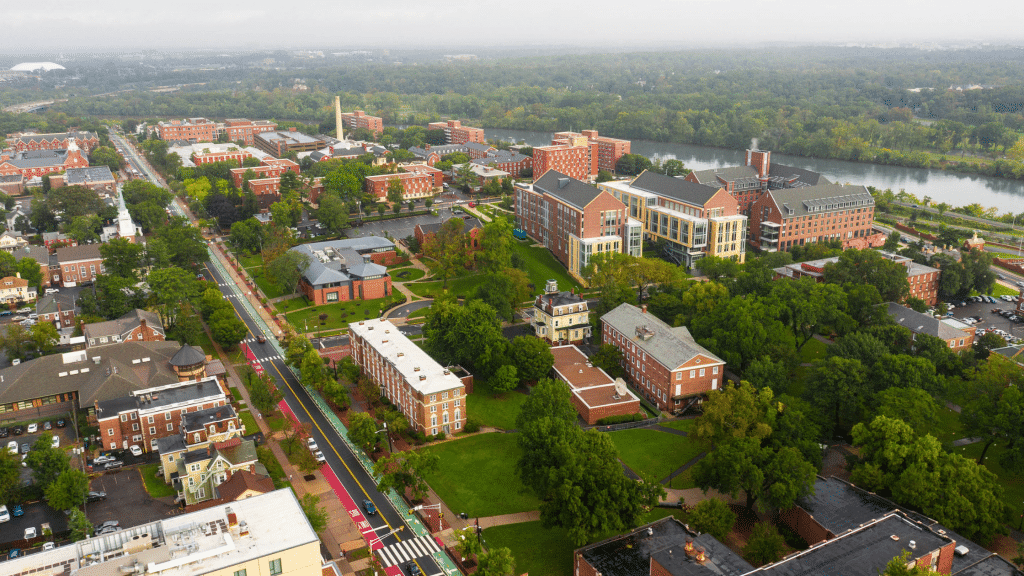 Second, on our New Jersey college rankings is Rutgers University located in New Brunswick. This university was founded in 1766 and was initially called 'Queens College'. It is a public research university that has more than 120 undergraduate programs and 200 graduate programs each year. The university also offers several professional programs, noncredit certificates as well as complete programs.
The New Brunswick campus is one of the three regional campuses that the university has. The campus is made up of 5 smaller campuses that when put together make up the Brunswick campus. These campuses include the cook, Livingston, College Avenue, Douglas, and Busch. Each of these campuses accommodates several academic structures and student residence halls. The intuition has several farms and gardens as well as research centers that are located mainly on the Cook campus.
Admission into Rutgers University is not as competitive as that of Princeton. The acceptance rate is relatively high at 61% with an average graduation rate of 80%. Rutgers offers its students with career guidance and development services that aid its students with internship placement opportunities.
Some of the major courses that students may enroll in include the following:
Business administration
Marketing
Psychology
Economics
Healthcare administration
Law
Political science
Stevens Institute of Technology
The Stevens Institute of technology is one of the oldest technological universities in the country with its origin dating as far back as 1870. It is a private research institution located in Hoboken New Jersey which serves approximately 7000 undergraduate and graduate students each year through four schools and colleges.
The 55 acres university is located in Hoboken spanning the highest point in Hoboken which is Castle Point. As a leading institution in technology and innovation, the university provides both on-campus and remote learning. Students can pursue some of the universities' full degree programs that are available online.
If you are considering this institution as your destination of choice for higher education, you will be required to pay an average tuition of about $38.000 after aid. The acceptance rate at the Stevens Institute of technology is 40% and they have a graduation rate of 83%. The careers department provides students with internship placement assistance and career guidance.
Students can choose from over 34 undergraduate majors, 56 masters, and 22 doctoral programs. These programs are provided through the college of arts and letters, the schools of systems and enterprise, the school of business, and the school of engineering and sciences. Some of the institutions most popular majors include:
Business
Data science
Computer science
Engineering
Systems and enterprises
Fine arts
The College of New Jersey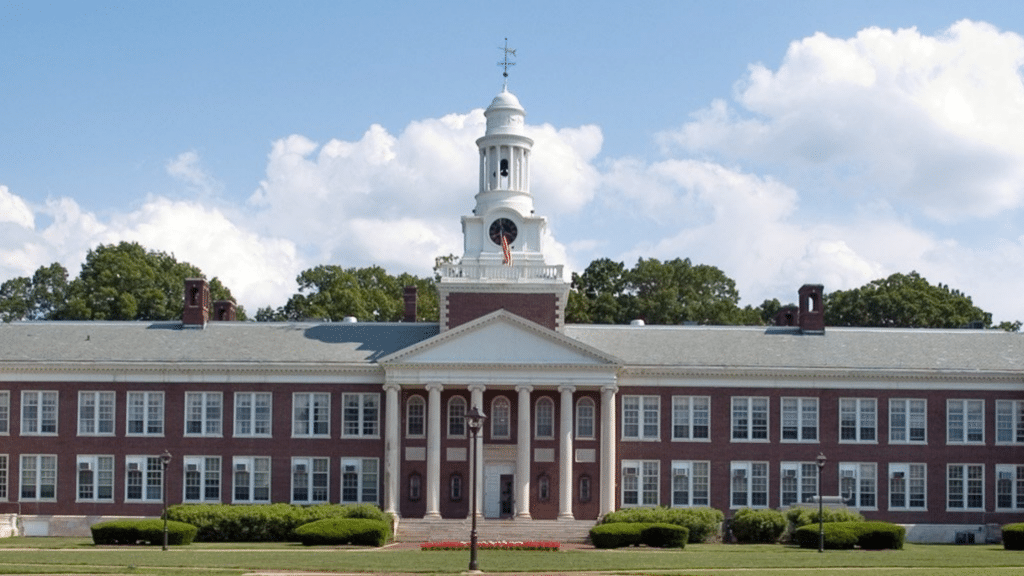 The college of New Jersey was founded in the year 1855. It is a public university that serves about 7000 students each year with a selection of about 50 liberal arts and professional programs as well as 20 graduate degree programs. The university was initially located in Trenton proper but was later moved to its present location.
Now located in Ewing Township, New Jersey, the 299 acres suburban campus is home to several academic structures, research facilities as well as student residence halls. Most first-years and second-year students are provided on-campus accommodations in any of the allocated halls including Centennial Hall and the Cromwell Hall.
Admission into this university is not as competitive. The college's acceptance rate is 49% percent with an average graduation rate of 86%. Those interested in applying to this college would have to fill an application online as well as submit other additional documents such as official transcripts and recommendation letters. The average tuition cost for in-state students is about $16,000 while students coming from out of state would have to pay about $28,000.
Students can choose any of the majors provided through 7 schools. Of the variety of undergraduate and graduate programs that the school offers, we have listed out a few of them for you below:
Journalism
Communication
Nursing
Engineering
Health and exercise sciences
Business management and administration
Marketing
Secondary and elementary education
Ramapo College of New Jersey
In our New Jersey college ranking, Ramapo Colleges comes in fifth place. The institution is a public liberal arts college that is located in Mahwah, New Jersey. It was founded in 1959 and admits about 6000 students each year. Students enrolled at Ramapo have over 40 academic programs offered through five schools and colleges and approximately 540 courses to major and minor in. Coupled with the on-campus learning, the institution also offers classes online with the help of the Canvas learning management system.
The college's suburban campus sits on about 300 acres. The campus is accessible, modern, and very beautifully laid out. It is ideally located at the foot of the Ramapo Mountains which provides students with lush mountain views. The campus accommodates several modern academic infrastructures, a spiritual center, and several recreational facilities for resident students.
This liberal arts college admits approximately 66% of students that apply to the institution each year and graduates about 73% of its final year student population. Students enrolled in this college are also privy to internship placement and assistance.
Ramapo College offers students about 540 courses through five different schools which are the school of social sciences and human services, the school of contemporary arts, the school of humanities and global sciences, the Ansfield School of Business, and the school of theoretical and applied sciences. Some of the majors to choose from include:
Pharmacy
Chiropractic
Accounting
Nursing
Educational leadership
Business administration
Special education
Social work
New Jersey Institute of Technology
The New Jersey Institute of Technology was founded in 1881. It is a public research university which is located in Newark, New Jersey. The institute serves its student population of over 11,000 students with about 125 undergraduate and graduate degree programs shared across five schools and colleges.
The institute's main campus is approximately 48 acres, which provides on-campus accommodation for about 2000 students. There are five residence halls on the campus premises that are effective. Most of the students that live on campus are students in their first year of studies. One of such residence halls is the Cypress Hall which accommodates freshmen students.
Applicants applying to this school have a high chance of being accepted. The school has an average acceptance rate of 73% and a graduate rate of 80%. The school's average tuition cost is about $19,000 after aid. Students applying to this university are required to have a complete application including SAT or ACT scores, a high school transcript, and a letter of recommendation. Once admitted, the institution assists its students with internship and co-op placement in partnering companies in New Jersey.
Out of the variety of programs and courses available at all levels of study, the list below is a few you can choose from.
Engineering management
Information system
Data science
Computer science
Business and information systems
Civil engineering
Cyber security and privacy
Industrial engineering
Rutgers University – Newark
Rutgers University Newark is one of the three regional campuses of the main Rutgers University; the main campus is in New Brunswick. The present-day Rutgers University was formerly known as the University of Newark but became a part of Rutgers University in 1946 when the latter became a state university. The university now serves about 13,000 students each year, with about 60% of its student population enrolled in the School of Arts and Sciences.
The 38 acres urban campus is located in Newark, sharing its borders with the New Jersey Institute of Technology. Its proximity to other institutions allows its students to benefit from interacting with other students. The campus accommodates several academic and recreational structures including a fitness complex and several students' lounges and dining halls.
The university has an acceptance rate of 72% and a graduation rate of 66%. Admission into undergraduate programs is highly dependent on the applicant's high school diploma including standardized test scores, cumulative ranks, and several other factors. Once admitted, the students receive career guidance and development to help them grow academically as well as professionally. The university offers internship placement assistance to enrolled students.
There are over 40 undergraduate majors for students to choose from. Students can as well choose from the over 50 graduate study programs that have been made available by the university. Some of the popular programs include:
Finance
Biological study
Psychology
Accounting
Criminal justice
Safety studies
Biology
Montclair State University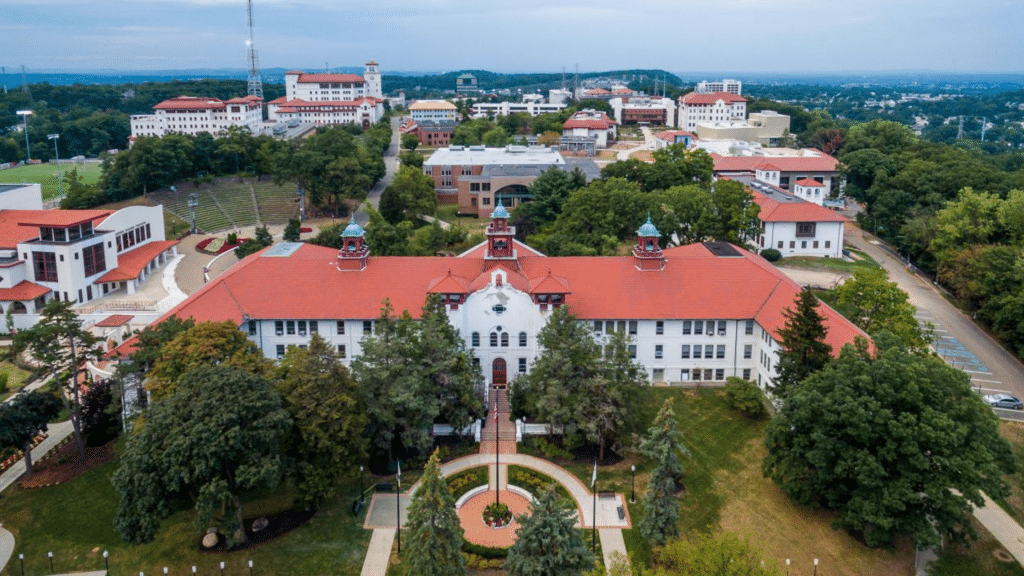 Montclair State University is one of the top colleges in NJ. The university was established in 1908 and now opens its doors to over 21,000 students every year making it one of the biggest universities we have seen so far in terms of enrollment. It is a public research university that offers over 300 majors and minors for students to choose from, with programs available to students at all levels of study.
The historic Montclair campus sits on 252 acres and consists of buildings and infrastructure that were constructed after the Second World War to accommodate its growing student population. After which they went on to add about 23 new buildings on the land they acquired from a former traprock quarry. The university has since added new structures and buildings including a residence hall and students dining area.
Montclair has an acceptance rate of 76%. Applying students are accepted based on the grade point average, standardized test scores, and extracurricular activities. Montclair graduates about 62% of its students each year after they must have completed all course requirements and internships where it is required. Internship placement assistance is made available to students in both local and international companies.
Students may choose any of these study programs:
Kinesiology and exercise sciences
Business administration and management
Public health
Psychology
Accounting
Human development and family studies
Food, nutrition, and wellness studies
Biology and biological sciences.
Stockton University 
Stockton is a public research university that was founded in 1969. It carries out its operation across five different campuses, opening its doors to over 11,000 students enrolled each year. Students have access to over 116 undergraduate and 28 graduate programs which are shared with the university's seven schools and colleges.
Students may complete a major of graduate-level programs online or may choose an on-campus experience on the university's 1,600 acres suburban campus. The university has since its creation accommodated the campus with academic buildings and infrastructure, the most recent being the new campus center completed in 2011.
The university admits 75 of every 100 students that apply every year and graduate about the same number of its final year student population. Applicants are required to complete an application form as well as submit official high school transcripts and a personal essay.
Some of the university's most popular study programs include:
Environmental studies
Criminology
Social work
Information sciences
Psychology
Speech communication and rhetoric
Rowan University
Rowan University is a public research university that has campuses in Glassboro, Stratford, and Camden New Jersey. Every year, the university hosts about 18,000 students serving them with about 80 undergraduate and 46 master's programs. Through the university's Global Learning and Partnership division, students can also complete degree and certificate programs online.
The 800 acres campus accommodates a majority of the university's 14 schools and colleges. The campus consists of student centers, the main one being the Chamberlain Student Center which is the main student dining hall. There are also three student publications on the main campus.
Admission into that university is not highly competitive. The school admits 74% of the students that apply there every year and graduate about 70% of its final year student population. Like most universities in the area, Rowan offers internship placement assistance to its students who are seeking to gain professional work experience. There are also several research projects and programs that students can participate in.
Students enrolled in Rowan can choose any of the following study programs and more:
Radio and television broadcasting technology
Psychology
Music teacher education
Computer and information sciences
Criminal justice
Finance
Accounting technology
Why Study in New Jersey?
Minus the fact that New Jersey has some of the best science, research, and liberal arts colleges in the country, there are so many other reasons why you should choose New Jersey as your study location. One of the reasons you should consider New Jersey is that the living cost in some areas is more affordable than neighboring New York or Pennsylvania. Many students prefer to stay and study in New Jersey due to its affordability.
Students that attend school in New Jersey have access to a booming and industrious job market. The state boasts of housing over 17 Fortune 500 companies that offer employment opportunities to graduates from the state. Some of these companies include ADP, Merck, and Prudential financial. Other large employers include United Airlines, and Johnson & Johnson.
New Jersey is also known as the Garden state because of the presence of numerous beaches, parks, and outdoor activities. Students can choose from a variety of recreational activities to enjoy. Studying in New York also allows students to travel to New York and Philadelphia easily. They can enjoy Broadway shows in the big apple and visit other monumental sites using the NJ transit system.
In conclusion, studying in any of these colleges in New Jersey prepares students to meet the needs of both the local and the international job market. Due to the proximity of the schools to some of the best companies in the country, students graduate with a well-rounded education and have an edge over other students in the country. We hope this article helps you find the right fit for your academic and professional journey.
References: