Minnesota is a major center of education in the Midwest and has built a reputation for being the United States' most educated state both in the level of academic attainment and the quality of education available to its students. With such a variety of schools to choose from, candidates need to make informed and guided decisions.
After carrying out due research, we present you with a list of the best colleges in Minnesota.
2023's Best Colleges in Minnesota 
St Olaf College
Carleton College
University of Minnesota – Twin Cities – Minneapolis, MN
Macalester College
College of Saint Benedict and Saint John's University
Gustavus Adolphus College
Minnesota State University
Winona State University
University of Minnesota – Duluth, MN
University of Minnesota – Morris, MN
St Olaf College
St Olaf College is located in Northfield Minnesota, some 45 miles from the twin cities, and was founded in 1874 by a group of Norwegian-America pastors and farmers. The college is one of the top-ranked liberal arts schools in the state, opening its doors to over 3000 students each year. The college only offers undergraduate programs with a bachelor of arts and a bachelor of music being its top degree programs offered. The college is also ranked as one of the top colleges in the country as one of the colleges with the most students abroad at 73% of its graduating class in international programs.
The 300-acre campus known as "the hill" houses 17 academic buildings and 29 students' residential buildings. The picturesque campus also accommodates 10 athletic facilities in the premises. Added to that 325 acres restored wetland that is located adjacent to the main campus. The St Olaf college campus was so meticulously designed that in 2011, it was named the most beautiful campus in the US by Travel+Leisure.
The school has an average acceptance rate of 48% and a graduation rate of 88%. If you are considering making St Olaf your study destination for college then you would need to pay an average of $23,000 for tuition fees. The academic advising department of the college organizes placement tests to help determine the best place to start your studies. They also offer counseling and internship placement to both students and alumni.
Being a liberal arts college, students have a variety of majors to choose from as well as other courses they could take in their free time. Students could choose either of these courses:
Music education
Latin American studies
Race and ethnic studies
Political science
Women's and gender studies etc.
Carleton College
Established in 1866, Carleton College is one of the top private liberal arts colleges located in Northfield Minnesota. The colleges offer over 2000 students with a variety of graduate and undergraduate programs in the arts and the sciences. With one of the highest graduation rates in the state, most of the college's students go on to pursue a doctorate and other postgraduate degrees and diplomas.
The 1040 acres campus established in 1867 is located in the northeast of Northfield, overlooking the Cannon River. The college still has a portion of its campus dedicated to farming and agriculture. The campus also has a "bald spot" in the center of the campus that is used for games and recreation for the students. The campus also houses several administrative and student residential buildings as well as athletic and recreational facilities.
While the college boasts of a high graduation rate of 92%, its average acceptance is very low at only 19% making it one of the most selective colleges in the country. Candidates applying to this college go through a rigorous selection process before they could be admitted into the college.
The college organizes placement tests for individual subjects such as mathematics, chemistry, and other subjects. The college student service also provides counseling as well as internship and job placement for its students.
Carleton College offers major courses in the following:
African studies
Archeology
Art history
Asian languages
Dance
Digital arts and humanities
Economics
Educational studies
University Of Minnesota – Twin Cities – Minneapolis, MN
Next on our list is the University of Minnesota located in the twin cities of Saint Paul and Minneapolis. The University of Minnesota is a public research university that opens its doors to over 50,000 students each year and is ranked the largest public school in the state by enrollment. The institution offers its students both undergraduate and graduate programs with over 143 undergraduate and 200 graduate programs to choose from. The University of Minnesota houses over 300 centers for research and study on their premises.
The University of Minnesota Twin Cities campus is spread across three locations: one in Minneapolis, the other in Falcon Heights, and one in the suburbs of St Paul. The Minneapolis campus sits close to the Mississippi River and is the home of several student resident halls. The campus is divided into the east and the west bank. The east bank of the campus covers about 307 acres while the west bank houses several schools, social science buildings, and centers. The St Paul campus is located some 3 miles from the main campus in Minneapolis. This campus has a tranquil setting with beautifully laid out gardens and lawns. It accommodates several of the university's schools and colleges including the college of continuity and professional studies and the college of food, agriculture, and natural resource sciences.
The University of Minnesota has an acceptance rate of 57% with an average graduation rate of 78%. The university's average tuition after aid stands at about $17,000 for undergraduate students. With over 50.000 students, organizing placement tests for students isn't a walk in the park but the university offers internship placement for its students and provides them with career guidance and counseling.
Some of the courses that students can major in include the following:
Agricultural communication and marketing
Biochemistry, molecular biology, and biophysics
Bioinformatics and computational biology
Earth sciences
Forest and natural resource management
French studies
Health communications
Maternal and child health
Macalester College
Established in 1874, with a little over 2000 students enrolled annually, the Macalester College located in Saint Paul comes in fourth in our university of Minnesota rankings. The college is a liberal arts college that offers undergraduate education only to its students. The school's curriculum is designed in such a way that students can design their interdisciplinary major within the school system. Though small in enrollment, Macalester offers over 60 areas of study for its students to choose from.
The Macalester campus covers an area of about 53 acres in Saint Paul Minnesota. The Romanesque revival-style buildings make the campus charming and emphasize its multiculturalism. As with most liberal arts colleges, Macalester insists that students spend their first two years in the institution on campus. It is for this reason that the institution provides several student residence halls on campus. The main campus is also the home of several administrative buildings and schools.
The college has a rigorous admissions process with an average acceptance rate of 32% and boasts of a high graduation rate of 88%. They also promote inter and multiculturalism by encouraging international internships and study programs. They offer internship placement to students as well as off-campus courses and independent study projects. Many majors at the college require that students undergo a period of studying abroad as part of their curriculum.
With over 60 areas of study to choose from, students can choose any of these as a major:
Community and global health
International development
Urban studies
Pre-medicine
Pre-law etc.
College Of Saint Benedict And Saint John's University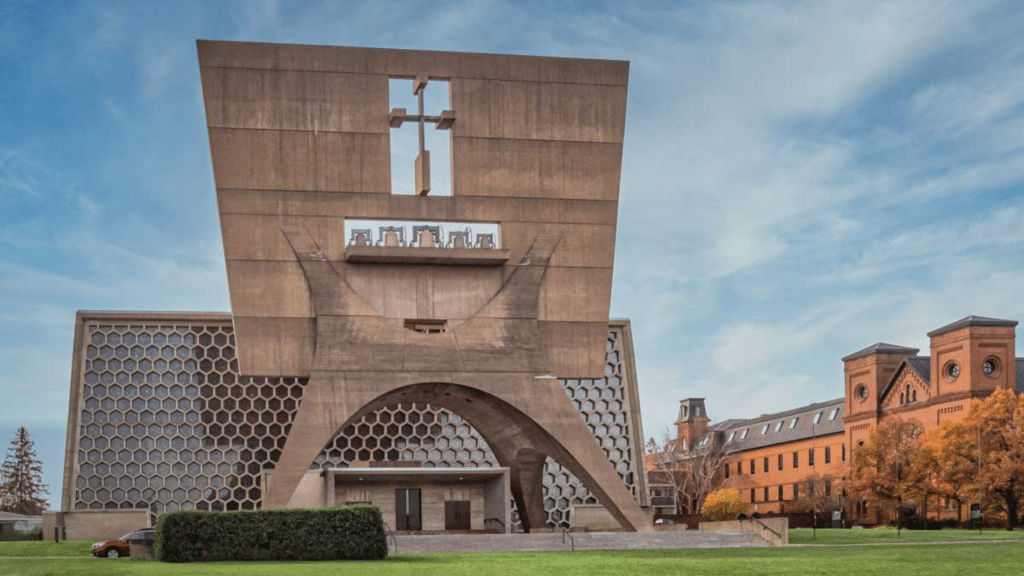 The college of Saint Benedict and Saint John's University were two liberal arts universities that functioned independently of each other until they began to function as a single unit that shares its resources among each other. The College of Saint Benedict was formerly a women's college while the later a men's college but now the only gender separation exists in terms of accommodation. Both institutions do not only share resources, they also share the same curriculum. The institution exclusively offers undergraduate programs to about 3,600 students annually. The postgraduate programs that are offered are only a small fraction of the university and offer religious programs such as ministry and theology.
The college of Saint Benedict is located in St Joseph Minnesota while Saint John's University is located in Collegeville. Between both campuses, there are 3.5miles, to bridge this gap; an inter-campus bus service is available to the students. The campuses stand on about 3500 acres of forest and lakes. Saint John's University is made up of four branches that are dedicated to a peer resource group, an outdoor leadership center, and two other facilities.
The college has an exceptionally high acceptance rate of 80% and a graduation rate of 84%. The average cost per annum after aid stands at about $26,000. The university offers internship placement as well as study abroad programs for students. They also provide career development and counseling services to the students enrolled in the university.
Students can choose from dozens of majors in the sciences and the liberal arts. Some of which include:
Sociology
Hispanic studies.
Pre-professional programs in:
Veterinary
Optometry
Dentistry
Gustavus Adolphus College
Founded in 1862, the Gustavus Adolphus College is a private liberal arts college that opens its doors to 2.400 students each year. It was founded by Swedish-Americans and still has ties with the Evangelical Lutheran church here in America. The school only admits students for undergraduate programs with over 70 areas of study for students to choose from.
The Gustavus Adolphus College campus is located in Saint Peter, some 10 miles north of Mankato in Minnesota. The main campus that is also known as 'the hill' sits on about 340 acres of land. The campus houses several administrative buildings including science facilities and language labs. It also has several residential halls for students and multiple sculptures by Paul Granlund. One of the sculptures includes that of Nicolette and King Gustav II Adolf of Sweden.
With an admission rate of 69%, you may want to consider Gustavus Adolphus College as your ideal study destination. They also boast of a high graduation rate of 81%. The average annual cost after aid stands at $22.000. Students in this university benefit from internship and career placement programs that help students develop themselves both academically and professionally. The school also emphasizes students acquiring proper writing skills by providing them with several writing courses and seminars as well as professional writing advisors.
Students have over 70 areas of study to choose from as well as pre-professional programs such as pre-law, pre-engineering and pre-medicine. Some majors you could choose from include:
Comparative studies
African studies
Gender & Sexuality studies
Physical therapy
Computer science
Comparative literature etc.
Minnesota State University
Minnesota State University is a public university in Mankato, Minnesota, established in 1858 as a normal school. It is ranked amongst one the largest universities in the state by enrollment, with over 15,000 students enrolled each year. It offers its students a wide selection of both graduate and undergraduate programs with over 130 undergraduate and 90 graduate programs available. Students also have the option of choosing to study on-campus or explore one of the many online bachelor's and master's degree programs that have been made available by the university. The university also tops the charts for having the most international enrollment for its students.
The Minnesota state university campus spreads over 303 acres, accommodating 30 structures. The structures include residence halls, a music library, two astronomy observatories as well as recreational centers, and an athletic complex. The university also has two satellite campuses: one in Edina and the other in Owatonna, and another partnership center in Bloomington.
This public university has an average acceptance rate of 63% and a graduation rate barely above average at 52%. The tuition cost is relatively lower than the other colleges we have seen so far, an average of $16.000 after aid. Career and internship placement services are also made available to the students enrolled at the university.
Students can choose from any of the on-campus or online majors available. Some degree and masters program they could offer online include:
Applied leadership
Technical communication
Dental hygiene
Special education
Business administration
Some programs available on campus include:
Mathematics and statistics
Natural resources and conservation
Philosophy and religious studies
Social sciences
Visual and performing arts
Communication and journalism etc
Winona State University
Winona State University is a public university in Winona, Minnesota. It is the oldest school that is a member of the Minnesota state colleges and universities system. Founded in 1858 as Winona Normal School, the university opens its doors to an average of 9,000 students every year. The university offers programs under its 5 distinct colleges (business, liberal arts, science and engineering, education, and nursing and health sciences) which sums up to more than 80 undergraduate and 40 graduate programs for students to choose from.
The university's main campus is located at Winona and has satellite campuses in Rochester and the Winona west campus. Most of its facilities and schools are located on the main campus. The campus also accommodates several residential halls for students who prefer to live on campus.
Winona State University has an average acceptance rate of 68% and an above-average graduation rate of 59%. Students who are interested in studying at Winona State University will be required to pay an average tuition fee of $17,000 annually after aid has been deducted. Students in WSU benefit from the Warrior success center which offers a variety of services including academic advising and tutoring while college advisers provide internship placement and career guidance.
Winona state university offers over 80 undergraduate programs, you can choose from:
Elementary education and teaching
Marketing and marketing management
Social work
Biology and biological sciences
Kinesiology and exercise sciences
Psychology
University Of Minnesota – Duluth, MN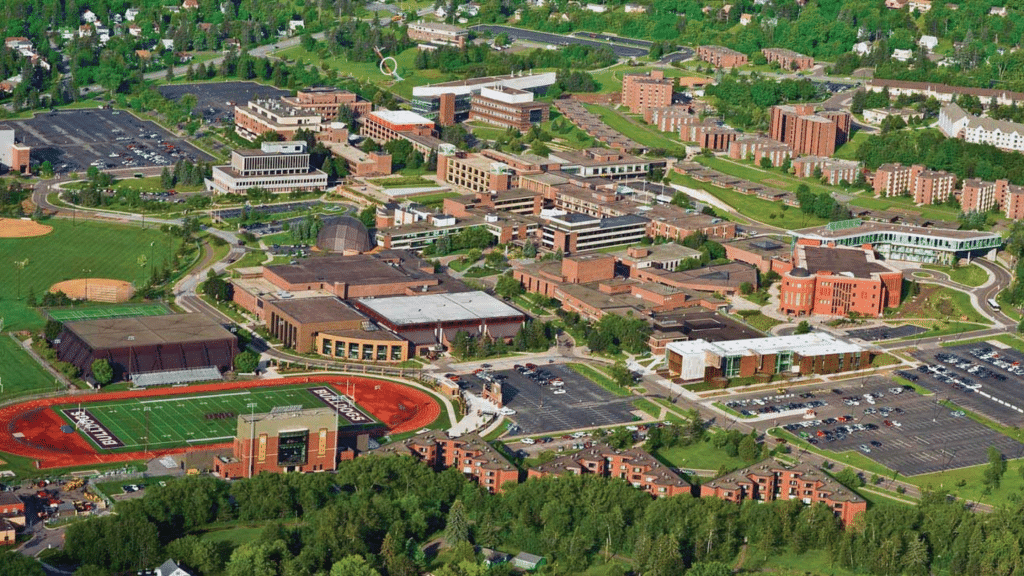 The University of Minnesota Duluth, first known as the Duluth Normal school is a public university located in Duluth Minnesota. It is one of the universities in the University of Minnesota school system, offering students 16 bachelor's degrees in over 88 different majors and graduate programs in about 25 different fields of study. The university enrolls approximately 11.000 students each year.
The university's main campus sits on approximately 244 acres of land overlooking Lake Superior, accommodating about 50 buildings most of which are connected by hallways or concourses. These buildings include the Tweed Museum of Art, the Marshall Performing Arts Center, the civil engineering building, and a lot more.
The university's acceptance rate is relatively high, standing at a 75% average acceptance rate with a graduation rate a little below that at 60%. Students considering enrolling in this university would be required to pay an average tuition of $17000 after aid. It is well worth it as the university provides support for its students through the Academic Writing and Learning Center.
Some of the major courses available to students in this university are:
Aerospace studies
African and African American studies
Art
American Sign Language
Chemical engineering
Business analytics
University Of Minnesota – Morris, MN
The University of Minnesota located in Morris stands out for being the only public liberal arts school in the state of Minnesota. It is a relatively small school in terms of enrollment, serving only about 1900 students each year. The school only offers undergraduate programs with over 70 majors and minors available to its students.
The Morris campus is often referred to as the 'green campus' for being so enthusiastic about using alternative and renewable energy sources in the establishment. It has spearheaded a green revolution of some sort by using alternative power sources such as corn Stover and a biomass gasification plant. The campus also has a fitness center for the students, several administrative and recreational structures as well as residence halls.
The average tuition fee per annum is low compared to other liberal arts schools in the area at $11.000 after aid. The acceptance rate stands at 57% while its average graduation rate is about 61%.
Students who choose to enroll in this university can choose from either of these majors:
Data science
Jazz studies
Sustainability leadership
African and Black American studies
English and creative writing
Why Study in Minnesota?
What is it about Minnesota that makes it such a great study location? Here are a few reasons why you should snag the chance to study here.
Minnesota is the third happiest state in the United States and that is saying a lot. For students who are leaving their home state for the first time, Minnesota provides a great outdoors experience with the longest bike tracks in the country.
With over 12,000 lakes in the state, students can immerse themselves in Minnesota life and culture which includes tons of outdoor activities. Students can also benefit from the state's rich wildlife and many sporting activities in the winter.
Lastly, students can transition easily from the classroom to the job market thanks to the presence of top companies in the state. With an unemployment average rate of just 3.5%, you can comfortably grab a job or consider a study/work option. Companies such as Target, Radisson hotel, and many others have their headquarters in Minnesota.
In this article, we have been able to provide you with a list of the colleges in Minnesota that we think are the right fit for you. Whichever one you choose to become a part of your academic journey will, without a doubt, meet your expectations. These top schools in MN provide you with the best study environment, while the happy states of Minnesota provide you with the best outdoor experiences.
References: