Known for its Sunkissed beaches, parks, and many other recreational activities, Florida is the ideal travel destination but could also be a perfect study destination. Like most states in the US, Florida provides various higher learning institutions for both international students and nationals seeking high standards, low tuition costs, and picture-perfect campuses. Why not explore your options with some of the best colleges in Florida. Applicants are also looking to find schools with a good career placement system, and Florida has all of these to offer. After due research, we can present to you our top colleges in Florida.
Below are ten of the best universities in Florida that are sure to give you everything you are looking for and a whole lot more.
Top 10 Colleges in Florida
University of Florida
Florida State University
University of Central Florida
University of Miami
University of South Florida
Carlos Albizu University
Florida International University
University of North Florida
Florida Atlantic University
Embry-Riddle Aeronautical University
University of Florida
Formerly known as the University of the state of Florida, the University of Florida is a research university located in Gainesville, Florida. Established in 1853, the university came in third in the Florida college rankings based on student population. It is ranked eighth in the largest single-campus universities in the United States. As of 2018, the university had over 54,000 students enrolled for the fall semester. With 150 research centers, 16 colleges, and over 87 schools and departments, it is no doubt that the University of Florida ranked by the U.S. News and World report as the sixth-best public university in the country.
The university's campus is vast, stretching over 2,000 acres, accommodating impressive structures such as the famous 157-foot-tall century tower. This outstretch of land also houses resident halls as well as fitness and recreational facilities. The Reitz Student union provides employment opportunities and career development services to students and alumni seeking employment.
The university's annual tuition for 2018/19 was $6,381 for undergraduate students from Florida and $28,658 for undergraduate students from out of state, with the average cost after aid being about $8,057. Of all applicants that the school receives every year, its acceptance rates a 37% average and has a graduation rate of 87%.
Some of the major courses offered in this university include:
Accounting
Advertising
Architecture
Botany
Business
Chemistry
Family, youth, and community science
Journalism
Mass Communication
And a host of many others. You should note that not all courses are offered every semester.
Florida State University
Located in Tallahassee, Florida, the Florida state university is a public research university founded in 1851. The university comprises 16 different colleges, including over 110 centers, research facilities, abs, and institutes that offer over 360 undergraduate and graduate programs with about 22 schools/colleges. The university houses the state's lone national laboratory, and it is famous for its groundbreaking research and composition of the first anti-cancer drug called Taxol. This university ranked 19th in the 2021 US news and world report.
The Florida state university main is 487 acres (2.0km2) with 14,800,000 square feet covered by buildings. This campus is strategically located with several bus routes and an international airport, making access to nearby towns easy. In addition to the main campus, the Florida state university's southwest campus is 850 acres big, located off Orange Drive, the 104 acres RecSportsPlex located on Tyson road, and the Panama City is 100 miles from the main campus.
The university has a 36% acceptance rate and an 80% graduation rate. With regards to tuition, the average cost of studies after aid is $11,000. The total tuition fee for each in-state student is $5,616 and $18,746 for undergraduate students coming from out of state.
The university's career placement service is also a great addition to the theoretical training received by students. The university's career center provides a comprehensive career service to students and members of their alumni network.
Some of the major courses offered by the university include:
Anthropology
Marine biology
Chemistry
Ancient history
Computational science
Computer criminology
Creative writing
Applied geoscience
University of Central Florida
The University of Central Florida, located in Orange County, Florida, is a public research university with over 71,913 students as of fall 2020. The university, which first opened its doors in 1968 under the name Florida Technological University, now has the largest student body of any university. It was renamed in 1978 and since opened doors to students from all 50 states of the US and over 157 countries. UCF offers about 230-degree programs in 13 colleges and ten regional campuses.
The university has ten regional campuses: the main campus is located along the east side of Orlando, Florida, covering 1,415 acres. The other campuses combined to give an additional 46 acres. The other campuses are Valencia west, Daytona beach, Clermont, palm bay, Ocala, Cocoa, Kissimmee, Leesburg, and Sanford. UCF also supports a complete online learning program so students that would like to enrol as distant learners.
UCF's acceptance rate is 44%, and it has a graduation rate of 75%. The tuition fee for four years in UCF is estimated as $25,472 for residents of Florida and $89,868 for students coming from out of state. The university has a career and experiential learning office that provides students with career development, internship placements, and mentorship opportunities for both students and alumni.
It offers the following primary course:
Biology
Nursing
Psychology
Arts and humanities
Business
Community innovation and education
English literature
Computer science
University of Miami
The University of Miami is located in Coral Gables, Florida. It is a private research university with 12 separate colleges and schools. In 2020, the university admitted approximately 18,000 students. Established in 1925, the university offers 132 undergraduate programs, 148 masters, and 67 doctoral degree programs. The University of Miami has become the home of learning to all 50 states and over 150 countries.
The University of Miami has four separate campuses; the coral gables campus, the medical campus, the marine campus, and the South & Richmond campuses. The main campus, which is the Coral Gables campus, spans 239 acres. This campus accommodates a majority of the school programs, housing seven schools, and two colleges. The medical campus is located in Miami city proper; the 16-acre marine campus is in Virginia key, and the south and Richmond campuses span 76 acres in southwestern Miami.
In 2021, the acceptance rate of freshmen into the University of Miami was 28%. Its acceptance rate is relatively lower compared to other universities in the state of Florida. The university is affiliated with several companies and firms such as Boston Consulting and Lennar that recruit from the university. The university's career placement office provides opportunities for internships and jobs for its students.
The university offers these major courses, amongst others:
Accounting business administration
Africana studies
Biochemistry and molecular
Biostatistics
Communication
Dance
Epidemiology and public health
French
Industrial Engineering
Ocean sciences
University of South Florida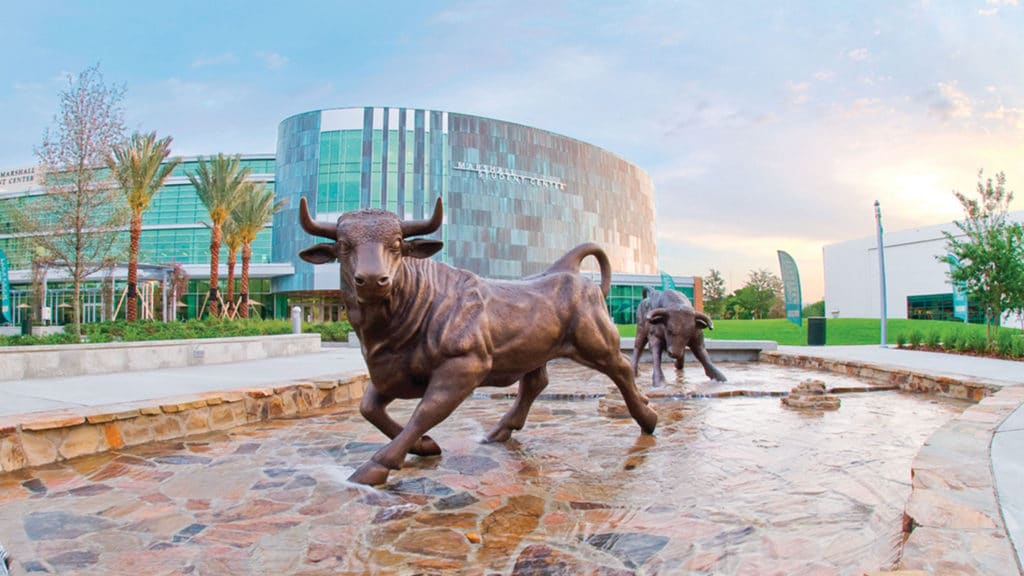 The University of South Florida is a private research university with its main campus in Tampa, Florida, with 14 colleges and offers over 200 undergraduate programs and graduate programs. It is one of the top-ranked and the fourth-largest university in Florida. 11th largest public university in the United States for enrollment.
The university has accommodated students from all 50 states and international students from over 145 countries.
The main university campus is in Tampa and was established in 1956. It is the largest of the three universities of south Florida campuses covering 1,562 acres and accommodating over 41,000 students. This campus also accommodates 14 colleges, including graduate studies and a leadership center.
The campus is nicknamed the treed campus because it has over 19,000 trees with streets and dorms named after trees.
The university has a career service center that offers support to students and alumni in planning and achieving their careers goals. The career service also allows students to gain new skills. They manage both career and internship placement for students and alumni seeking employment or work experience.
The university offers several significant courses in science, arts, behavioural and community sciences, business, education, nursing, marine sciences, public health, and a lot more.
Carlos Albizu University
Carlos Albizu University is a private university that focuses on psychology, health, education, and human services. Its main campus is in San Juan, Puerto Rico, but it has a campus in Miami. The Miami campus is located in the metropolitan area and offers several undergraduate and graduate programs. Given the multiethnic nature of Miami, the university can quickly meet its mission of providing culturally sensitive education to a diverse group.
The university isn't highly selective, and an acceptance rate of 56% attests to that. Their graduation rate is 78%.
Its Career Services Center at the Miami campus helps students improve and cultivate their career choices and provides them with the essential capacities to penetrate the professional world successfully. Students have access to individualized career counselling throughout their studies at the university. The university also has an employment database that assists both students and alumni find jobs. As a student, you are also privy to weekly updates about jobs and internships that concern you. Their internship and job placement service also provides students with counselling and skills development training.
If you are considering this university as your choice for graduate or undergraduate studies, here are some of the major courses that the university offers its student:
Forensic psychology
Psychology
Masters in industrial/organizational psychology
Master of Science in Autism and other neurodevelopmental disorders
Clinical psychology
Elementary education
English for speakers of other languages
Criminal justice
Florida International University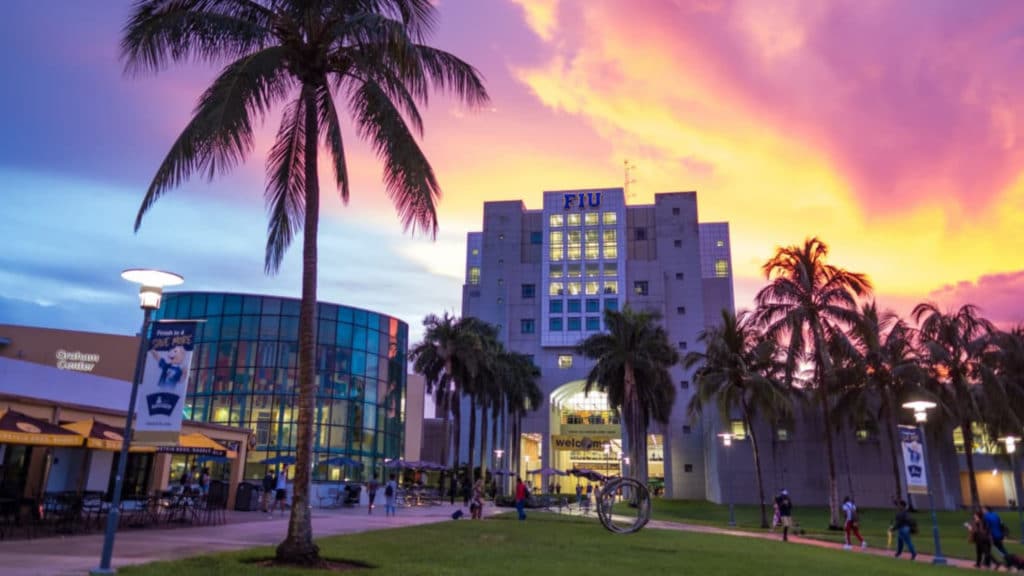 Another of the best universities in Florida is Florida International University. This university was founded in 1965 and has since become one of the largest universities in the Greater Miami region. In the Florida college rankings, the Florida international university is the largest in South Florida. It comes in second-largest university in the state of Florida and fourth by enrollment in the United States. The university has 11 separate colleges and over 40 centers, labs, and institutes. With over 190 study programs offered by the university, there is a lot to choose from.
Florida International University has two campuses, the university park campus, and the Biscayne Bay campus. It also has several branches and institutes in south Florida, China, and Genoa, Italy. The university park campus covers over 344 acres of land and accommodates most of the university's colleges and schools, including administrative offices.
The acceptance rate of FIU is about 45%, meaning you stand a high chance of being accepted if you should seek admission here. The total tuition for students from Florida is $7,916, and for students coming from out of state, the total tuition is $20,314. The career and talent development office of FIU is the university's arm in charge of career development, counselling, and placement of both students and alumni.
Some majors offered by the university are:
Adult education and human resources
Architecture
Art
Biochemistry
Biology
Business analytics
Communication journalism
Computer science
Disaster management
Finance
Forensic science
Nursing
Music
University of North Florida
The University of North Florida, located in Jacksonville, Florida, is a public university part of the state university system in Florida. The university offers degree programs, masters, doctorates, and baccalaureate. The university began offering courses in 1972, 7 years after it was established in 1965. The University of North Florida has five different colleges, including nutrition and music programs. With over 200 clubs and student-run organizations, every student can be part of their inclusive system.
The 1,300 acres Jacksonville campus, located between downtown Jacksonville and Jacksonville beaches, accommodates 28 buildings, including six student housing facilities. Although most of the students live off-campus, the student living conditions on campus are well equipped. The campus has a shuttle service that eases dorms and other buildings to facilitate movement between classes and facilities.
The University of North Florida has a high acceptance rate of 72% higher than most other universities we have seen. The university uses career fairs and other orientation activities to help students get their dream jobs and make their dreams come true. The career office also manages internship and job placement for students and alumni.
Its five different colleges offer various courses in education, business, health, engineering, and computing. Some of its majors include:
Clinical and applied movement sciences
Health administration
Interdisciplinary health studies
School of nursing
Nutrition and dietetics
Physical therapy
Public health
Florida Atlantic University
Offering more than 170 undergraduate and graduate programs, the Florida Atlantic University is a public research university established in 1964 as one of the first public universities in Southeast Florida. Its main campus in Boca Raton, Florida, and six other satellite campuses along the Florida coastline have opened its doors to students from over 140 countries and all 50 states of the US. The university's ten colleges offer students the opportunity to study medicine, education, engineering and computing, and many others.
The University's main campus, located in Boca Raton, Palm Beach County, spans over 850 acres, housing labs, dorms, and a wide variety of buildings and infrastructure. The other campuses include the Jupiter-John D. MacArthur campus in Palm Beach County, Dania Beach-Seatech, Davie, Fort Lauderdale campus in Broward County, and the Fort Pierce-Harbor Branch Oceanographic institution in St. Lucie County.
The Florida Atlantic University has a 63% acceptance rate and a 54% graduation rate. Total tuition fees for locals are about $4,879 and $17,3243 for out-of-state students.
Its career center organizes career fairs and training for students and alumni, giving them opportunities to be well-placed career-wise. It also has an internship placement system for students to have work experience. FAU offers a plethora of courses from accounting to electrical engineering.
Some majors offered at FAU are:
Anthropology
Commercial music
British history
College of arts and letters
Entrepreneurship
Leadership and applied management
Information security
Mathematics education
Ocean engineering etc.
Embry-Riddle Aeronautical University
The Embry-Riddle Aeronautical University is a private university with a residential campus in Daytona Beach, Florida. It offers a host of undergraduate and graduate programs. Minus the academic programs, students studying in Embry_Riddle Aeronautical university enjoy services such as an interfaith chapel, a fitness center, and sports fields.
The Daytona Beach campus is 187 acres located close to the Daytona beach international airport, makings it very accessible and used for flight practice. The main campus accommodates an aviation complex as well as a residence hall. It also houses several administrative and academic buildings, including the technology center and the aviation complex.
The university has an acceptance rate of 61% and a graduation rate of 55%. Its career services have a mission to provide students with resources to excel in the job market. It offers job and internship placement for both students and alumni to reach their career goals. It does so by organizing career expos on its various campuses.
The university offers significant courses in the arts and sciences, paying attention to aeronautics and aviation. Some of the major courses offered are:
Social sciences
Unmanned aircraft flight
Systems engineering
Naval sciences
Simulation
Air traffic management
Chemistry
Civil engineering
Business administration
Aviation maintenance sciences
Communication
Geoscience etc.
Why Study in Florida?
If you consider Florida as a study destination, here are a few reasons you should push through with your plans and snag the opportunity to get the best education in good colleges in Florida. It is no secret that Florida has a hot climate, beautiful beaches, and loads of fun things to fill up your weekend. But the sunshine state also has universities with very moderate tuition rates, the job market is constantly growing, and it promises you several job opportunities upon graduation. If you decide to study beyond a bachelor's degree, you can benefit from a great selection of graduate programs available to you.
Conclusion
The warm breeze and cream beaches in Florida make studying in the sunshine state a memorable experience. Open your mind to the limitless possibilities of studying in one of the top-ranked universities in Florida and the world, all while gaining the best educational and professional training to equip you for life after graduation better.