The rising cost of living is a call for concern for most families in the United States. The cost of college does not make the situation any better because it is also on the rise. That
is why many are concerned about the value they receive for their money if they enroll in a particular college. This article provides a list of the 10 best colleges in California.
2021's Best Colleges in California
Stanford University – Stanford, Ca
Pomona College – Claremont, Ca
California Institute of Technology – Pasadena, Ca
Claremont Mckenna College – Claremont, Ca
University of California-Berkeley – Berkeley, Ca
University of Southern California – Los Angeles, Ca
University of California-Los Angeles – Los Angeles, Ca
Harvey Mudd College – Claremont, Ca
Pitzer College – Claremont, Ca
Scripps College – Claremont, Ca
Stanford University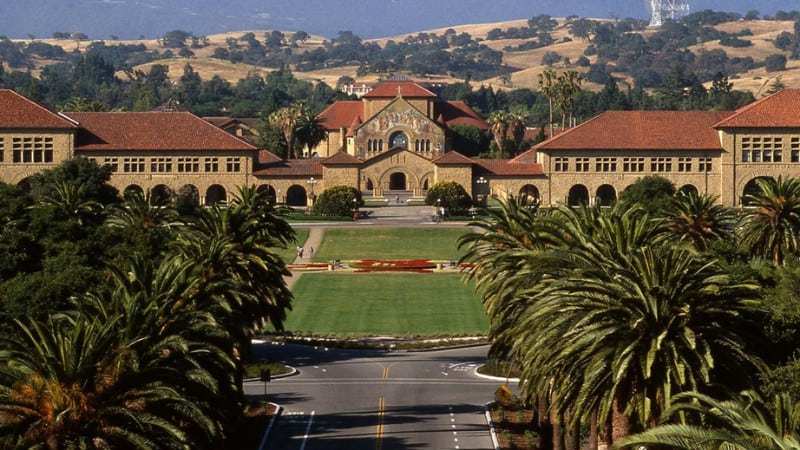 Leland Stanford Junior University is a private research university nestled in the Silicon valley in Stanford, California. It was opened in 1891 and is home to 15,157 students. It has 81 student residences with over 11,000 students occupying them. Undergraduate students whose annual family income is less than $150,000 may stand a chance to get a scholarship covering their tuition. Those with an annual family income of less than $65,000 stand a chance to get a scholarship that covers their tuition, room, and board while at Stanford University. Approximately 82% of graduate students at Stanford University receive some form of financial assistance.
In 2020, Times Higher Education ranked Stanford in 7th position worldwide for graduate employability. Within the same year, Stanford came to the 4th position in the US for leadership skills and employability. According to Global University rankings in 2021, Stanford stood the 2nd with an overall score of 94.3%.
According to California college rankings, Stanford University is listed as the best college in California.
Stanford University has a 4.3% acceptance rate compared to Harvard, which has a 4.6% acceptance rate; Stanford University is more selective on admissions compared to Harvard.
Stanford University offers online/distance learning and traditional learning in a wide range of courses. Some of these courses include:
Aeronautics and Astronautics
Arts
Biology
Communication
Creative writing
Engineering
Education
A host of Languages
History
Laboratory Animal Science
Science, Technology, and Society
Political Science
Psychology
Pomona College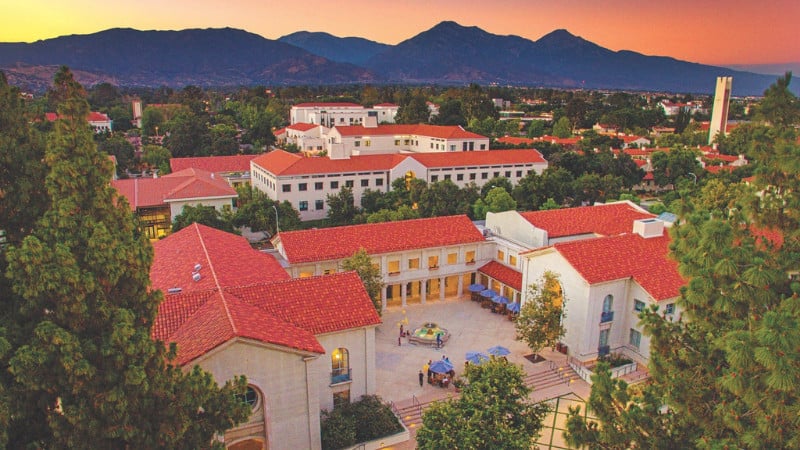 Pomona College is a private Liberal Arts College in California, ranking 4th among Liberal Arts Colleges in the US. It also ranks 2nd among Best Value Schools. It was founded in 1887 and is a member of the Claremont Colleges in California.
Pomona College is among the most selective colleges in the United States, and it is among the best California schools. It has an acceptance rate of 7%, and its students have an average SAT score of 1,465. To stand a chance to get admission, Pomona college requires prospective students to have a GPA of at least 4.05, which puts them at the top of their class. It has 1477 students who work closely with their lecturers in an 8:1 ratio in an excellent learning environment that promotes creativity and innovation.
Pomona college tution is $54,774, and its graduates have a median starting salary of $57,500. According to Pomona college's 2020 statistics, 3% of graduates accepted a service opportunity, 78% opted for an internship/job offer, and 14% received a graduate school offer. City of Hope, Microsoft, JP Morgan Chase, Goldman Sachs, Facebook, and Google are among the top employers.
Pomona College offers up to 48 majors and minors except for Environmental Analysis, International Relations, Molecular Biology, Neuroscience, Philosophy, Politics & Economics, Public Policy Analysis, Romance Languages & Literatures, and Russian & Eastern European Studies.
Here is a list of some of the majors that Pomona College offers:
Art
Astronomy
Chemistry
Cognitive Science
Economics
English
Gender & Women's Studies
Geology
Linguistics
Mathematics
Molecular Biology
Politics
Religious Studies
Society
Theatre
California Institute of Technology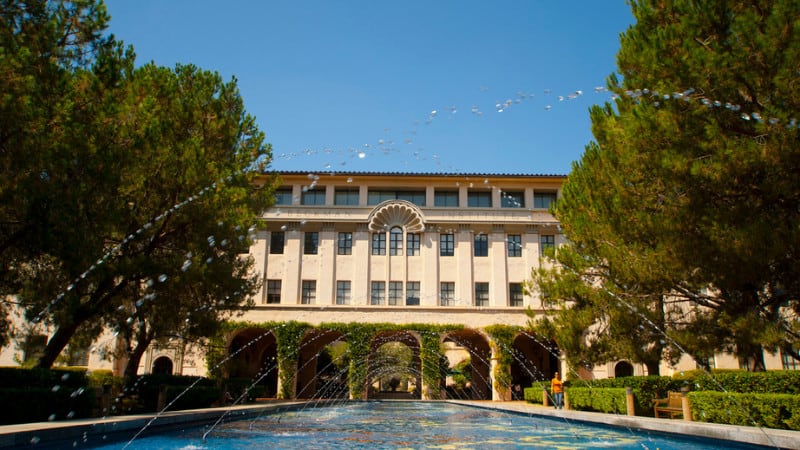 California Institute of Technology (CalTech) is a top CA college that was founded in 1891 in California. It focuses on science and technology and currently manages JPL for NASA. Furthermore, it is a private research institute that has garnered 45 Nobel Prizes and has a student-faculty ratio of 3:1. CalTech has a 6% acceptance rate, and the average SAT score of applicants is 1545. It offers 28 undergraduate options and 30 graduate options to its 938 undergraduate students and 1,299 graduate students. Students who are not eligible for aid have to pay tuition and fees of $56,862. Caltech students can get scholarships and grants based on their needs. The goal is to ensure that all their students can study without worry.
Caltech ranks in the 9th position in National Universities in the US and the 18th in Best Undergraduate Teaching.
Approximately 90% of students participate in research during their undergraduate years.
It has a 93% graduation rate.
In 2017, 60% of the class got employed, with the average starting salary of Caltech graduates was $105,500. 35% of Caltech graduates enrolled in a graduate school within the same year.
Some Caltech majors include:
Applied and Computational Mathematics
Astrophysics
Business, Economics & Management
Chemistry
Computational and Neural Systems
Electrical Engineering
Geobiology
Geophysics
History and Philosophy of Science
Information and Data Sciences
Mechanical Engineering
Philosophy
Planetary Science
Political Science
Claremont McKenna College
Claremont McKenna College (CMC) is a Liberal Arts college that ranks among the best good California colleges. It is known nationwide as an excellent school for economics and governance. CMC was founded in 1946, and it became the 3rd Claremont College. It focuses on grooming student's leadership skills and accepts applicants who have demonstrated vital leadership skills.
CMC is a member of The Claremont Colleges, a group of 7 colleges in California that let their students participate in co-curricular and educational activities with students from all the other colleges.
The tuition and fees for full-time students are $58,111 for the 2021/2022 academic year. CMC offers financial aid for US nationals and international students alike, although the aid packages are different.
Furthermore, CMC has sponsored internship & experiences programs to help their students get valuable opportunities and real-life experiences in the work environment. Enrolled students have a median SAT score of 1420 and 75% research with their faculty. Furthermore, CMC has a six-yearThe graduation rate of 91%. 93% of 2020 graduates got into graduate school or got employed within six months of graduation.
Claremont McKenna College offers a host of majors and minors for its students. Here is a list of some CMC departments:
Government
History
Literature
Mathematical Sciences
Military Science and Leadership
Modern Languages and Literature
Philosophy
Physical Education and Intercollegiate Athletics
Psychological Science
Religious Studies
The Robert Day School of Economics and Finance
W.M. Keck Science Department
University of California-Berkeley
The University of California-Berkeley is a public university with a 17% acceptance rate, and enrolled students have an average SAT score of 1420. It was founded in 1868, and it now has 31,780 undergraduate students.
The cost of tuition and fees for in-state students is $14,226, and that for out-of-state students is $43,980. The University of California-Berkeley offers students financial aid, and the average amount for a grant or scholarship award is $22,420. Up to 44% of undergraduate students in full-time programs receive some form of financial aid.
The University of California-Berkeley comes in 22nd position in the rankings of National Universities. It has 184 departments & academic programs and a student to faculty ratio of 17.8:1. The current faculty holds 9 Nobel price awards. It is ranked the 31st in Best Undergraduate Teaching and the 6th in Best Colleges for Veterans.
It has a 4-year graduation rate of 76% and the median starting salary for graduates is $66,800.
The University of California-Berkeley has over 130 departments offering courses for undergraduate and graduate students. Here is a list of some majors:
African American Studies
Applied Mathematics
Bioengineering
Business Administration
Chemical Engineering/Nuclear Engineering Joint
Data Science
Earth and Planetary Science
Food systems
Global Studies
Human Rights Interdisciplinary
Integrative Biology
Journalism
Linguistics
Music
Nutritional Sciences: Dietetics
Philosophy
Race and the Law
Social Welfare
Theatre and Performance Studies
Urban Studies
University of Southern California
University of Southern California (USC) is a private research institution founded in 1880 in Los Angeles, California. It had an acceptance rate of 11.4% and a graduation rate of 92%. 50% of USC students have SAT scores between 1360 and 1530. USC requires all newly admitted international students to take the International Student English Placement Exam. USC is the 70th in World University Rankings, and it ranks 19th among US College Rankings in 2021. It is among the top colleges according to California college rankings.
USC has a financial aid scheme, and the average grant award or scholarship amount is $41,082. In-state and out-of-state students pay the same amount of tuition, which is $60,446 and $1,057. 37% of the undergraduate students in USC benefits from some form of aid.
USC has three teaching hospitals and 5 Nobel Laureates. It also has a school of medicine and pharmacy. Additionally, it has more than 1000 organizations on campus that students can belong to.
The University of Southern California offers majors in the following areas:
Arts & Humanities
Engineering & Technology
Life Sciences
Law
Psychology
Social Sciences
Business & Economics
Education
Computer Science
Physical Sciences
Clinical, Pre-clinical & Health
University of California-Los Angeles
University of California-Los Angeles (UCLA) is a public research institution that was founded in 1882. It was initially called the Southern Branch of the University of California. UCLA is the 13th in the U.S. News & World Ranking.
UCLA graduates earn an average salary of $49,600 a year, earning $70,700 after ten years. According to a 2016 survey, 33% of graduates from UCLA who had bachelor's degrees are fully employed in 6 months after graduation.
They allow students with financial constraintsUniversity of California-Los Angeles requires students to pay tuition and fees of $13,258 every academic year. UCLA offers eligible students financial aid in grants, scholarships, loans, and part-time student jobs. The goal is to allow students with financial constraints to learn. UCLA has an acceptance rate of 12.3%, and students have an average SAT score of 1405. UCLA ranks among the best colleges in California, and it has a 91.4% graduation rate. 64% of students complete a minimum of 1 internship during their undergraduate years.
UCL offers students more than 125 majors from which to choose. Here are some of those majors:
Anthropology
Biochemistry
Classical Civilization
Computational and Systems Biology
Ecology, Behavior, and Evolution
Geography/Environmental Studies
Human Biology and Society
International Development Studies
Korean
Linguistics
Microbiology, Immunology, and Molecular Genetics
Neuroscience
Psychology
Russian Language and Literature
Statistics
Harvey Mudd College
Harvey Mudd College is a liberal arts college that was founded in 1957. The teachers and students use a curriculum that focuses on teamwork and a collaborative approach to problem-solving. This teaching and learning style enables students to be their best and even outperform their counterparts in other high-end schools such as Princeton. Harvey Mudd College has an acceptance rate of 14%. Additionally, students that are enrolled in Harvey Mudd College have an average SAT score of 1,530.
Harvey Mudd College has a 14% acceptance rate and a 93% graduation rate. The cost of tuition at Harvey Mudd College is $60,402 annually. Students attending Harvey Mudd College can receive an average financial award of $43,764. Graduates from Harvey Mudd College have a starting salary of 91,400 which is 14.1% more than that of Princeton graduates' starting salary of 77,300.
Students who take courses in science, technology, engineering, and mathematics (STEM) are expected to take a compulsory course in Humanities.
Harvey Mudd College offers single majors and joint majors in the following fields:
Biology
Chemistry and Biology
Computer Science
Computer Science and Biology
Chemistry
Engineering
Mathematics
Mathematics and Computational Biology
Mathematics and Physics
Physics
Pitzer College
Pitzer College is a Liberal Arts College that was founded in 1963 and is part of The Claremont Colleges. It has over 1000 students who enjoy the benefits of a small college setting and interacting with other students in a larger circle.
Pitzer College has an acceptance rate of 14% and a graduation rate of 87.6%. Enrolled students have an average SAT score of 1410.
It ranks 36th position in National Liberal Arts Colleges and 1244th in world university rankings. It is one of the good colleges in California based on the teaching methods, students' grades, and overall performance.
Students at Pitzer College have to pay tuition of $56,018. Pitzer College offers financial aid to eligible students, and the average amount that students receive is $43,482. 47% of the students are currently receiving some sort of financial aid.
After graduating from Pitzer College, first-time graduates earn an average amount of $48,700. It is $2000 less than the national average of first-time graduates, which is $50,000
Some majors include:
Asian American Studies
Biophysics
Classics
Critical Global Studies
English and World Literature
Environmental Analysis
Human Biology
International Political Economy
Linguistics
Media Studies
Molecular Biology
Organismal Biology
Philosophy
Political Studies
Science, Technology, and Society
Studio Art
Scripps College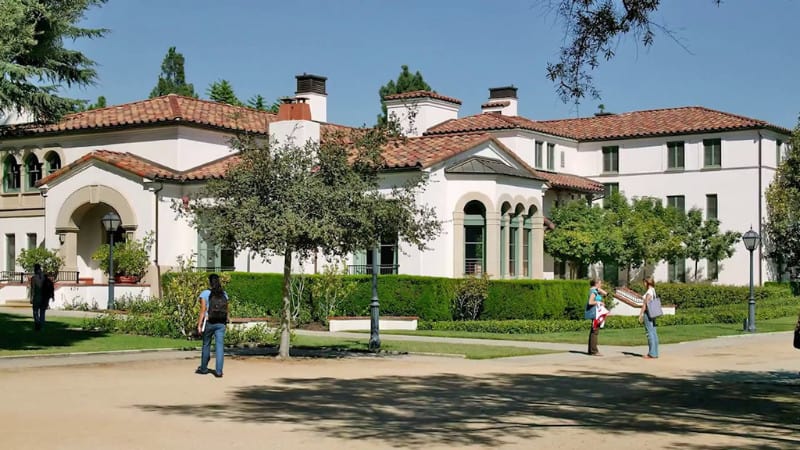 Scripps College was founded in 1926 as a private, not-for-profit Liberal Arts College for women, and it stays the same to date. It is the pioneer of The Claremont Colleges. Scripps College has an acceptance rate of 32% and a graduation rate of 84%. It requires students with knowledge of Spanish, Italian, French, or German have to take a language placement test before coming to campus if they have never done so before.
Undergraduate students in Scripps College have to pay $45,564 for fees and tuition, except for financial aid. Scripps College offers three types of financial assistance: merit-based scholarships, need-based grants, and student loans to ease the burden off the shoulders of their students and parents alike.
A total of 61% of the students receive financial aid in one of the above ways. 57% of students receive grant awards which are on average $30,707.

Graduates from Scripps College have an average starting salary of $44,000 every year.
Some majors include:
Art Conservation
Chicanx/Latin Studies
Dance
English
Feminist, Gender, and Sexuality Studies
Foreign Languages
Legal Studies
Mathematics
Psychology
Religious Studies
Theatre
Writing and Rhetoric
Why Study in California?
California has some of the best universities and colleges globally renowned for their research facilities, the value they offer, and the excellent results of graduates. Furthermore, California is a bustling city home to Silicon Valley, Hollywood, and other fascinating companies in diverse sectors. It allows you to have great internship opportunities, build sustainable networks and increase your chances of getting a good starting salary after graduation.
Conclusion
While some of these colleges are bigger and more popular than others, they have a reputation for producing students with stellar results. If there's one thing we have seen in the list above, these colleges give room for growth, creativity, and leadership skills.
(Visited 186 times, 1 visits today)